Network planning
Transmission and distribution network planning projects are highly individual, because in each case the special conditions of the supply area, load demand and geographic distribution, technical standards and requirements, current status of the existing system, etc., have to be considered.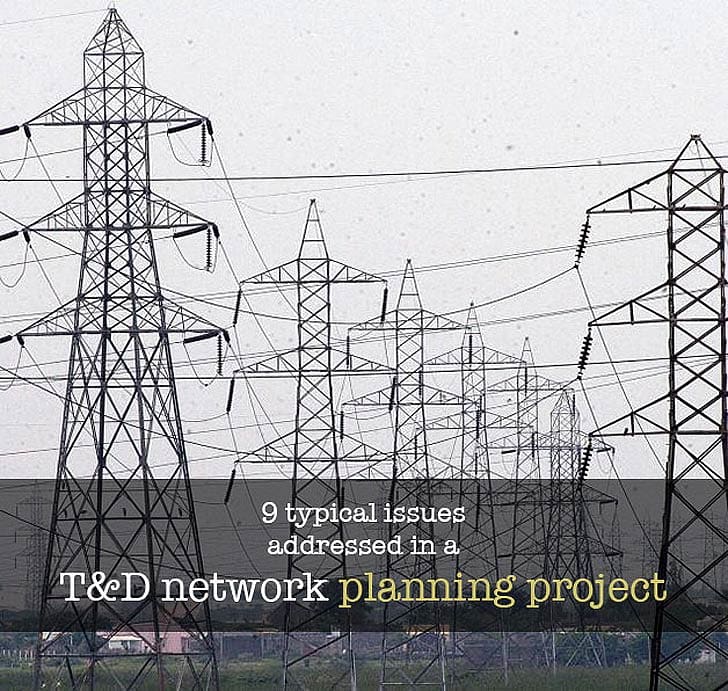 The actual scope and goal of each project are different as well.
Typical topics that may be addressed in network planning include:
1. Strategic network planning
Completely new structures, modifications or extensions are to be developed for individual plants, certain areas within the system, or even for whole power supply systems need to be examined. The project scope can comprise anything from the selection of general network structures and voltage levels down to detailed functional specifications for substation design.
The typical aspects of the system level under consideration – transmission network, distribution network or industrial network – need to be considered as well.
2. Dynamic performance of generators and transmission networks
Transmission networks are responsible for the secure operation of the power supply system in large areas. A major concern is system stability, including several different aspects such as inter-area and intra-area oscillations of generators, transient stability or voltage stability.
In large power systems, several generators or groups of generators may start to oscillate against each other as a result of operational changes or system disturbances.
These inter-area oscillations need to be damped effectively in order to prevent system instability. By suitable calculations, the oscillations are analyzed and the optimal placement and settings of damping devices is evaluated.
3. Dynamic performance of industrial networks
In industrial networks comprising local generation, the dynamic performance is of crucial importance. Besides the requirement to run the local generation in operation, special scenarios like decoupling from the public network, island operation, or system recovery after voltage dips need appropriate planning.
In addition, the start-up of large motors may pose challenges to the dynamic performance of the system.
4. Protection design and coordination
Electrical failures in power supply systems occur rarely, but nevertheless regularly, e.g., lightning strikes. They need to be cleared as fast and as selectively as possible in order to minimize safety risks and disturbances of system operation.
The design of suitable protection systems, considering also backup protection functionality, and the calculation of appropriate functional parameters for each protection relay ensure that these requirements are met.
5. Asset management
The systematic and comprehensive consideration of technical and economic performance indicators of both individual equipment and the entire system over the complete life cycle requires detailed data.
Certain information can only be provided by appropriate network calculations and supports, e.g., the prioritization of equipment in maintenance schedules or renewal programs, or the prognosis of expected technical system performance.
6. Power quality
Today, many electrical appliances are becoming increasingly sensitive to power quality issues, like harmonics, voltage fluctuations or voltage dips. It is important to identify the current status of such power quality aspects in the system through evaluation, and to include these facets in the system model in order to derive suitable mitigation measures, such as filters.
Harmonics
are becoming an even more widespread problem, because new kinds of electrical appliances often generate significant levels of harmonics.
As a result, the total harmonic distortion is increasing, and certain network configurations may even lead to resonances.
7. Earthing and interferences
Earthing is an important aspect of power supply systems and highly relevant for safety issues. Appropriate earthing has to ensure that fault currents are limited to acceptable levels, and in the design of earthing systems the local geological features have to be considered.
Fault currents or magnetic fields may also cause disturbing interferences with other technical networks.
Such interferences on other electricity, pipe or communication networks, for example, need to be studied in order to delineate suitable mitigation and protection measures (called electromagnetic compatibility, EMC).
8. Insulation coordination, switching transients
Electrical phenomena related to switching and lightning strikes, for example, can lead to high transient overvoltages in power supply systems. In order to prevent significant equipment damage, a suitable insulation level for all components is required.
Related studies can include measurements of such transient phenomena, suitable modeling in special network analysis tools and the placing and rating of surge arresters and other mitigation equipment.
9. Special power supply systems
Alongside the generally known networks for public and industrial power supply, special power supply systems are employed for exceptional tasks, such as oil-drilling or pumping platforms and vessels, underwater systems in wind parks or oil and gas plants, or isolated supply of ore mines.
For all these systems, different planning tasks need to be defined and performed in order to ensure a safe and reliable operation despite the many components and aspects involved.
Reference: Siemens Energy Sector Power Engineering Guide Edition 7.0