Cross-linking effect
XLPE is the recognized abbreviation for cross-linked polyethylene. This and other cross-linked synthetic materials, of which EPR (ethylene propylene rubber) is a notable example, are being increasingly used as cable insulants for a wide range of voltages.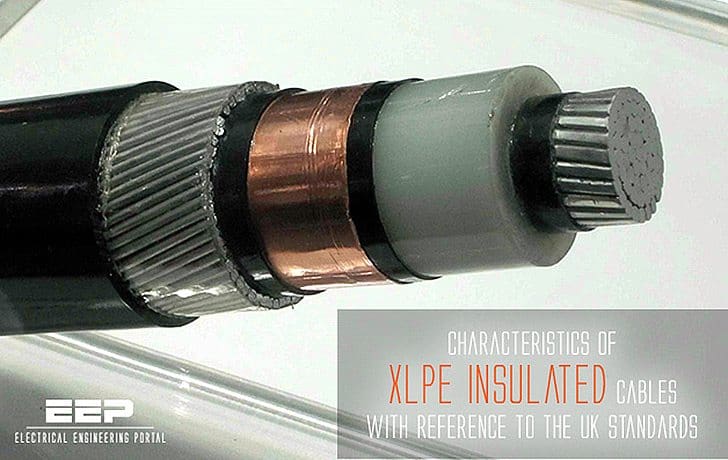 Polyethylene has good electrical properties and in particular a low dielectric loss factor, which gives it potential for use at much higher voltages than PVC. Polyethylene has been and still is used as a cable insulant, but, as a thermoplastic material, its applications are limited by thermal constraints.
Cross-linking is the effect produced in the vulcanization of rubber and for materials like XLPE the cross-linking process is often described as 'vulcan- ization' or 'curing'. Small amounts of chemical additives to the polymer enable the molecular chains to be cross-linked into a lattice formation by appropriate treatment after extrusion.
The effect of the cross-linking is to inhibit the movement of molecules with respect to each other under the stimulation of heat and this gives the improved stability at elevated temperatures compared with the thermoplastic materials. This permits higher operating temperatures, both for normal loading and under short-circuit conditions, so that an XLPE cable has a higher current rating than its equivalent PVC counterpart.
The effects of ageing, accelerated by increased temperature, also have to be taken into account, but in this respect also XLPE has favourable characteristics.
BS 5467 specifies construction and requirements for XLPE and EPR-insulated wire-armoured cables for voltages up to 3.3kV. The construction is basically similar to that of PVC cables to BS 6346, except for the difference in insulant. Because of the increased toughness of XLPE the thicknesses of insulation are slightly reduced compared with PVC.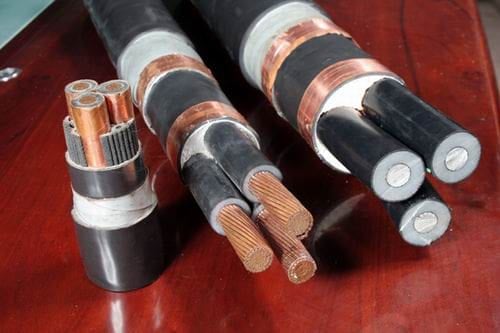 The standard also covers cables with HEPR (hard ethylene propylene rubber) insulation, but XLPE is the material most commonly used. From 3.8kV up to 33kV, XLPE and EPR insulated cables are covered by BS 6622 which specifies construction, dimensions and requirements.
The polymeric forms of cable insulation are more susceptible to electrical discharge than impregnated paper and at the higher voltages, where the electrical stresses are high enough to promote discharge, it is important to minimize gaseous spaces within the insulation or at its inner and outer surfaces.
To this end XLPE cables for 6.6 kV and above have semiconducting screens over the conductor and over each insulated core. The conductor screen is a thin layer extruded in the same operation as the insulation and cross-linked with it so that the two components are closely bonded. The screen over the core may be a similar extruded layer or a layer of semiconducting paint with a semiconducting tape applied over it.
Single-core and three-core designs are employed, and there is scope for constructional variation depending on the conditions of use, subject to the cores being surrounded individually or as a three-core assembly by a metallic layer, which may be an armour, sheath or copper wires or tapes.
A typical armoured construction which has been supplied in substantial quantities is shown in Figure 1 below.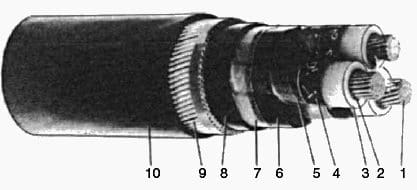 Where:
Circular stranded conductor
Semiconductor XLPE screen
XLPE insulation
Semiconducting tape screen
Copper tape screen
PVC filler
Binder
Extruded PVC sheath
Galvanized steel wire armour 10. Extruded PVC oversheath
In the UK this type of cable, mainly in single-core form, is favoured for power station cabling, where lightness and convenience of terminating are major considerations. Three-core designs are also used for site supplies.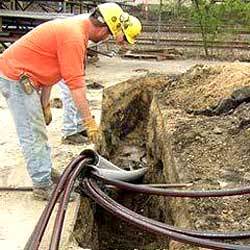 For underground distribution at 11kV, the XLPE cable does not compete economically with the paper-insulated aluminium-sheathed cable, but work is in progress on standardizing and assessing XLPE cable design, including trial installations, in preparation for any change in the situation. Overseas, where circumstances are different, XLPE cable is the type in major demand.
With manufacturing facilities increasingly orientated to this market, XLPE insulated cables constitute a large proportion of UK production.
Cold Shrink Cable Joint – XLPE Single Core High Voltage Cable
Reference: Newnes Electrical Pocket Book – E.A. Reeves DFH(Hons), CEng, MIEE Martin J. Heathcote BEng, CEng, FIEE