Professional electrical design tool
ePlusMenuCAD is a professional electrical design tool within AutoCAD environment. As a fully integrated solution for electrical design, it supports almost all types of electrical design (power distribution, lighting, sockets, single line diagrams, application schemes, EIB instabus, calculations etc.).
ePlusMenuCAD 10 Full is FULLY functional software and FREE of any charge.
Download, install and send us Request code in order to get FREE lifetime licence. ePlusMenuCAD does not contain any advertisement or anything similar, it's pure designer's tool, and it's free.
You can find similar design software on the internet for few hundred dollars, but we decided to give you ePlusMenuCAD for free.
Why free? 'Couse we love you and all electrical engineers ;) Get it NOW!
What do you get with ePlusMenuCAD 10 Full?
ePlusMenuCAD 10 FULL contain over

1200

electrical symbols and functions.
Excellent design tool for electrical installation design.
Easy integration with AutoCAD
Intuitive and easy to remember shortcuts
Purchase Source code of ePlusMenuCAD
Usefull links:
Example Project
Example of using ePlusMenuCAD in project Hotel Splendid in Budva (Montenegro), where it was used for designing lighting, power distribution, technology, installations of sockets and single line diagrams.
Overview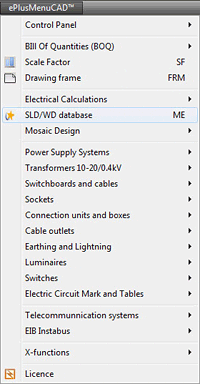 If you use your own blocks in AutoCAD which are placed somewhere on your HDD and insert them when needed in the drawing, and after that manually copy each time – then ePlusMenuCAD is for you. All the symbols are placed in one place, available from the drop-down menu , 26 toolbars, and also from intuitive shorcuts from command line. No more boring inserting and copyng blocks! ePlusMenuCAD offers efficency and high speed in generating technical specifications for Bill of Quantities, as well as automation in inserting electrical symbols into drawing.
In ePlusMenuCAD there are two modules integrated:
• Mosaic Design – single line diagrams
• X-functions – functions for easier and automated work in AutoCAD
Mosaic Design is advanced tool for creating single line diagrams and application diagrams. Large database of (universal) symbols covers almost any kind of scheme. Insertion of symbols and feeders, and generation of BOM is completely automated and very easy for use in drawing.
Second module X-functions, has more than 50 extra usefull functions (commands) that saves a lot of time durin daily work in AutoCAD. Working with layers, blocks, polylines etc. is much much easier .
Supported AutoCAD versions:
AutoCAD versions 2006, 2007, 2008, 2009, 2010 and 2011 are fully supported, and ePlusMenuCAD can be installed and used simultany on this versions. That means that ones ePlusMenuCAD is installed, you can use it in all (supported) installed AutoCAD versions.
Conception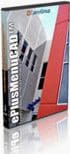 More than 1200 electrical symbols are placed in its categories (outlets, luminaires, types of installation, DEA, Cable verticals, labels of cables, transformers, cable feeds, TKS, EIB KONNEX ..). Every category has its layer. Layers carry the prefix "E-Power_" and "E-TLCM_" so that can be easily sorted in Layer Manager in the AutoCAD.
Also, there are a lot of various types of luminaires from metal-halid throug incadescent sorted by category and with predict shortcuts from the command line. Lamps that are designed to be supplied from Diesel Agregate DEA, have cross symbol, and as such are also located in generated bill of quantities (technical specification). Almost every area in which there are elements is covered with IEC symbols.
Click to enlarge picture of some ePlusMenuCAD's symbols
Drop-down menu is well organized, all symbols and functions are divided into categories. The most important are shown below:
What can be designed with ePlusMenuCAD?
Electric systems up to 1000V
IDesigning transformer substations 20/10/6/0,4 kV
Installations of power sockets (+ IEC symbols)
Installations of power distribution (+ cable labels)
Single line diagrams and application schemes of switchgears 0,4 kV
External cable distribution 20/10/6/0, 4 kV
Installation of interior lighting (general, technology and decorative)
Installation of external lighting (lighting roads, promenades, courts …)
Installation of lighting open trade centers and parking space
Installation of decorative lighting for public facilities and open sports facilities
Lightning protection
Earthing system
Technological installations
Telecommunications and signaling systems
Telephone system and installations
Intercom system and installations
Systems and installations for reception and distribution R/TV
Speaker systems
Anti-fire system and installations
Anti-burglary system and installations
Access control system
Hotel management system
Clock system
Conference system
Gas detection system
Wireless information transfer system
Recommended EE articles
Subscribe to Monthly Download Updates
Get EEP's updates without having to keep checking up on the portal to see if there is anything new. New FREE technical articles, electrical books, guides, software and other exclusive content you will receive via email. Pretty simple!
Subscribe here:
Page edited by E.C. (Google).
Become EEP's Contributor and introduce yourself to 70k+ of our readers all across the web.