Layouts and arrangements analysis
Medium voltage substations fall within the sub-transmission power system category, which feeds the bulk consumers directly or facilitates the secondary and tertiary distribution to small industrial and household consumers over an area after a suitable stepping down of voltage. Because of space and capital constraints, these substations need proper analysis of the various possibility of layouts and arrangements to make the optimal use of limited resources available.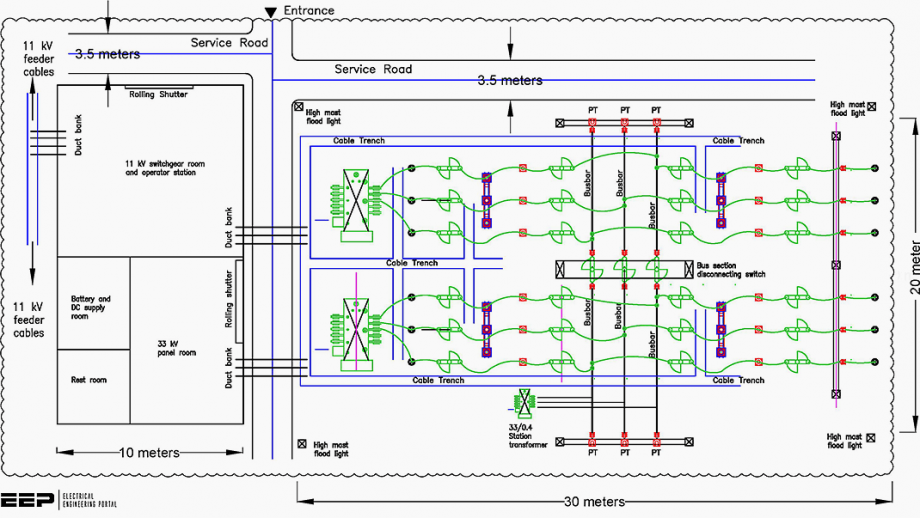 In this article, we will share the most important design aspects for drafting the layout and arrangement drawing of 33/11 kV outdoor (AIS) medium voltage substations.
1. Factors affecting the layout and arrangement of substations
Each substation is different in terms of their arrangement and design parameters. First, we will briefly discuss multiple factors that affect the design and layout of a substation.
1.1 Site selection and space constraints
Designing a suitable substation layout is heavily affected by site selection. Power distribution substations are mostly installed near load centers. The land nearby urban load centers are expensive and hard to acquire.
The layout should make the most of available space by reducing the footprint and meeting all the requirements of future proof and ideal substation design.
1.2 Voltage level
While drafting the layout and arrangement drawings, minimum clearances, and space requirement of switchyard, the orientation of incoming and outgoing feeders, size of control and panel rooms, size of an access road, etc., all are heavily reliant on the voltage level of the substation.
In this case, we are focusing on medium voltage substation, so the size and other requirements for drafting will follow the same.
1.3 Supply security and reliability
Ideally, for the substation to offer the ultimate power security and reliability level, all substation equipment needs to have redundancy. However, such an option is not practically applicable due to cost as well as space constraints.