Trihal
Trihal is a three-phase dry type transformer cast under vacuum in epoxy resin with an active filler. It is this active filler, essentially composed of trihydrated alumina, which is the origin of the Trihal trademark.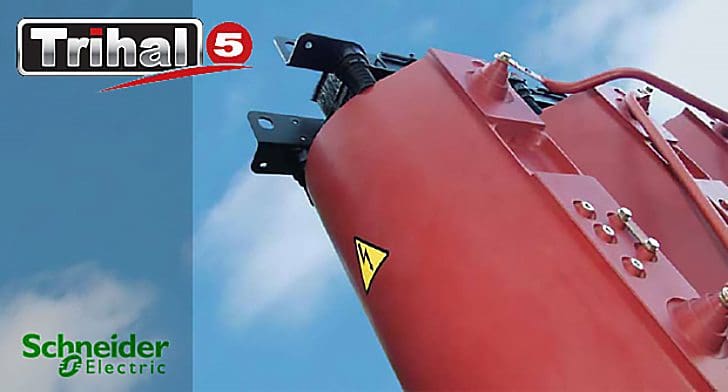 Technology
Magnetic core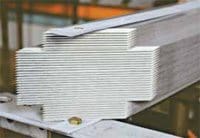 The magnetic core is made from laminations of grain oriented silicone steel insulated with mineral oxide. The choice and grade of steel and the cutting pattern and method of assembly minimises the loss level and the no-load current with the effect of a very low noise level.
Once assembled, it is corrosion protected using a class F, oven-dried alkyd resin.
Low voltage winding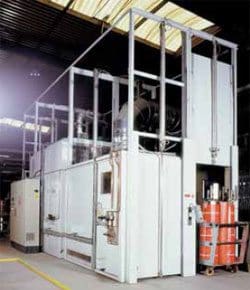 The low voltage winding is made of either aluminium or copper foil (according to manufacturer's preference) in order to achieve zero axial stresses under short circuit conditions; the foil is insulated by a class F inter-layer film, pre-impregnated with heat-activated, epoxy resin.
The ends of the winding are protected and insulated using a class F insulator. The whole winding is polymerised by being placed in an autoclave for 2 hours at 130°C which guarantees :
Outstanding resistance to industrial atmosphere aggression,
Excellent dielectric withstand,
Very good resistance to radial stresses under bolted short circuit conditions.
Each LV winding terminates in a tin plated aluminium or copper connection point, enabling connections to be made without using a contact interface (grease, bi-metal strip). Assembly is carried out according to current practices, including using spring pressure washers under nut and screw heads.
High voltage winding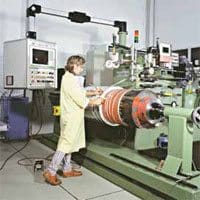 The high voltage winding is usually wound from insulated aluminium or copper wire, using a method developed and patented by Schneider  Electric : "a linear voltage gradient from the top to the bottom". For higher currents, the medium voltage winding may be wound using so-called "strip" technology.
These methods are used to obtain very low stress levels between adjacent conductors. This winding is cast and moulded under vacuum in a class F loading and fireproofed resin : the Trihal casting system.
These processes combine to give coils of very high dielectric properties with very low partial discharge level (guaranteed ≤ 10 Pc)* which is a decisive factor in influencing the transformer's life span and its lightning impulse withstand(1). HV tapping points on the copper connection bars enable connections to be made without using a contact interface (grease, bi-metal strip).
Assembly is carried out according to current practices, including using spring pressure washers under nut and screw heads.
High voltage casting system
The system provides a vacuum cast coating of fire resistant filled resin, a technology developed and patented by Schneider Electric.
The class F casting system comprises :
A bisphenol based epoxy resin with a suitable viscosity to ensure excellent impregnation of the windings ;
An anhydride hardener modified by a flexiblishing additive. This type of hardener assures very good thermal and mechanical properties. The flexiblishing additive gives the casting system the necessary elasticity to prevent cracking during operation ;
An active powdered filler composed of silica and especially of trihydrated alumina througly mixed with the resin and the hardener.
Silica reinforces the casting's mechanical strengh and improves heat dissipation. The trihydrated alumina guarantees the Trihal transformer's intrinsic fire performance. The trihydrated alumina produces 3 anti-fire effects which occur in case of calcination of the casting system (when the transformer is exposed to flames).
1st anti-fire effect(1) : refracting shield of alumina.
2nd anti-fire effect(1): barrier of water vapour.
3rd anti-fire effect(1) : temperature held below the fire point.
The result of the combination of the 3 anti-fire effects is immediate self extinguishing of the Trihal transformer.
In addition to its dielectric qualities, the casting system gives the Trihal transformer excellent self extinguishing fire resistance and excellent environmental protection against aggressive industrial atmospheres.
High voltage coil casting process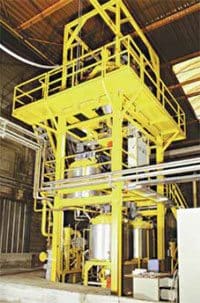 The process from proportioning the resin up to polymerization, is fully controlled by microprocessor, preventing any inopportune manual operation.
The trihydrated alumina and the silica are vacuum dried and degased to eliminate all traces of humidity and air which could degrade the casting systems dielectric characteristics. Half is mixed with the resin and half with the hardener under hard vacuum and controlled temperature, to give two homogenous premixes.
A new thin film degassing precedes the final mixing. Vacuum casting is then carried out in dried and pre-heated moulds at an optimal impregnation temperature. The polymerization cycle begins with a gelification at 80°C and ends with a long polymerization at 140°C. These temperatures are close to those of a transformer in service, enabling mechanical stresses to be eliminated which could lead to the coating cracking.
HV coil support wedges
The high voltage winding, which is encapsulated in hardened resin, looks like a thick-walled cylinder. This cylinder is centred on the magnetic core and is held in place vertically by an efficient wedging system, during transport, operation and even short-circuits and earthquakes.
Thanks to the original design of these wedges, which we developed ourselves, they can be assembled in a variety of ways to suit different levels of HV insulation. Where conditions of extreme stress exist and were clearly specified on the order form (very heavy HV coils, transport by sea or on very rough roads, installation in a wind turbine head, etc.) a reinforced wedging system (comprising two or even three sets of wedges) is used to palliate the situation and adapt the transformer to requirements.
Forced ventilation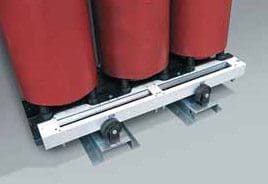 In the event of temporary overloading, to avoid overheating of the windings, it is possible to install forced ventilation.
For IP00 as for IP31, for powers equal or greater than 1000 kVA, it is possible to install forced ventilation to achieve a temporary increase in power of 40%, without any special modification. In all cases, this temporary increase of 40% can be obtained if detailed on ordering.
However, if an increase in power is requested, account must be taken of the impact of this choice on the following points :
Sections of cables and of Prefabricated Busbar Trunking (PBT),
The rating of the transformer's protective circuit breaker,
The size of inlet and outlet openings for air in the transformer room,
The life span of fans in service, which is considerably shortened compared with that of the transformer (3.5 compared to 30 years).
This option includes the supply of :
2 sets of tangential fans, pre-cabled and connected to 1 single power connector per set,
1 temperature measurement device, either Z or T type.
For Z type, a third set of PTC sensors is added to the standard thermal protection, in place of the R resistor which originally shunts the third Z converter measurement circuit (see diagram shown on the "Z thermal protection" option).
For T type, the digital converter comprises an output (FAN) intended to start the tangential fans (see diagram shown in the T thermal protection option).
This option includes either of the following, dependant on type of transformer :
A wiring box, mounted outside of the protective enclosure, to which are connected, sensors and power supplies for the fan sets on a terminal block,
A control cabinet, delivered separately (transformer IP00) or mounted on the protective enclosure, including : motor protection fuses, start up contactors and thermal protection device.
This unit is connected to the temperature sensors and fan sets if the transformer is delivered with IP31 enclosure. Otherwise, it is the installer who makes the connections.
Download TRIHAL wiring diagram (PDF) – HERE | Video Courses | Membership | Download Updates
SOURCE: Schneider Electric catalogue – Trihal transformer